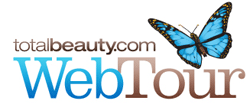 Girl-Woman-Beauty-Brains-Blog reviews and gives away a big bag of e.l.f. beauty booty.
Beauty Junkies Unite shows us how to eliminate muffin-top and be comfortable at the same time. Slimpressions makes a favorable impression!
Beauty411 shares her finds for the Best Winter Hand Creams. If your hands need relief, don't miss it!
Advice Sister's Alison Blackman Dunham is sharing Fashion Week's "must-haves" because it's always the little things that make life easier, more successful, and more fun!.
Head on over to The Makeup Divas and enter to win 2 tubes of Covergirl's Lashblast Luxe Mascara. While you are there, check out the other giveaways I have.
Boutique Flair experiences oneness with chocolate thanks to Coco-Zen.
Kyl at The Beauty Couch shares some tips on how to stretch your beauty budget.
Butterflydiary has an amazing Fashion Week themed giveaway! Patrick McMullan sent "Fashion Week" survival kits to his celeb friends. Win ONE of these luxury kits here
.


Viva Woman recommends you to use grapeseed oil underneath your moisturizer because it contains more antioxidant power than vitamins C & E!
Monique at Beauty Girl Musings has discovered, and fallen in love with, a foundation that makes skin look flawless and stays in place all day. Read about it here!
Dina at eye4style takes it all off with Paul & Joe's Makeup Remover. Check out her review here!


Watch Marta's interview with
MAC's Lead Makeup Artist
, Gerg Arnold, backstage at Twinkle!-Talking Makeup.
Checkout the Informed Makeup Maven's fave mascaras, palette buying tips and reviews check it out and leave a comment
Neon Bible shows you how to get Natalie Portman's Oscar Look for Less
Addicted To Lipstick shows us swatches and gives us her review of the Mac Hello Kitty Collection. You can see the pics here Mac Hello Kitty Review
Image and Style News is having a AVEENO Hair Care Collection GIVEAWAY click here to enter AVEENO Hair Care Collection